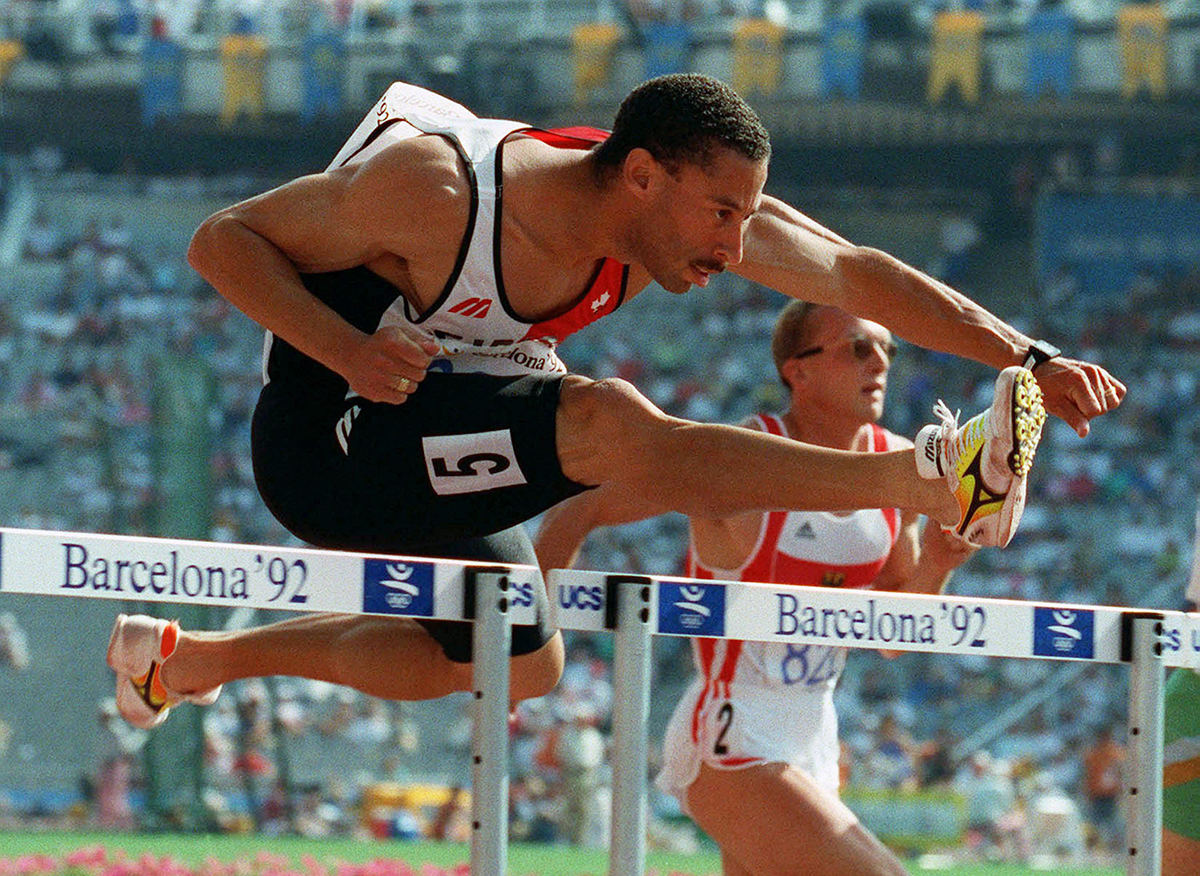 16 Nov

Face to Face with Mark McKoy
Mark's gold medal victory in the 110 meter hurdles in Barcelona is the pinnacle of his athletic career. However, he has a myriad of other athletic accomplishments that should ensure his place in the Canadian Sports Hall of Fame. The most notable include:
The indoor World Championship victory in 60 meter hurdles in Toronto in 1993.

The former World Record holder in the 60 meter hurdles in 1986 in Osaka, Japan.

The current world record holder in the 50 meter hurdles in Kobe, Japan.
Mark's recognition on the world athletic stage began in 1980, when he was only 18 years old and was selected to represent Canada at the Moscow Olympics. Unfortunately, the world events led to Canada boycotting those summer games. Mark did represent Canada at the alternate Olympic games in Czechoslovakia and then in Philadelphia.
Mark represented Canada in 1981 in the Pan Am Pacific games as a 110 meter hurdler and as a sprinter in the 4 x 100. He won gold in the 4 x 100. That same year, Mark was the Canadian champion in the 110 meter hurdles, a feat he would repeat 10 times during his career.
In 1981, Mark was a member of the Canadian relay team that set the world record for the 4 x 200 indoor race. The team also included Peter Harper, Tony Sharpe and Desai Williams.
In 1982, Mark won gold at the Commonwealth games in Brisbane, Australia in the 110 meter hurdles and set the Commonwealth record. The record stood unmatched until 1986 when Mark surpassed it again. Mark also anchored the 4 x 100 men's relay team that won Gold .
In 1983, Mark participated in the first world championship of track and field in Helsinki, Finland. He finished 4th, just a fraction of a second behind Willie Galt of the U.S who finished third. Mark's fourth place finish was Canada's best achievement at the Helsinki World Championship games.
In 1984, Mark was selected for his second Olympic team and participated in the 110 meter hurdles in Los Angeles where once again, he finished fourth.
In 1985, Mark participated in 75 races in the new international track and field league that has since become known as the Diamond League. Mark's total point production earned him a first place finish in the 110 meter hurdle division. Mark beat Greg Foster and Tony Campbell and other world champions.
In March of 1986, Mark captured his 2 world records in the 50 and 60 meter hurdles. That year, he also represented Canada at the Commonwealth Games in Edinburgh, Scotland. Mark was a member of the 4 x 100 relay team (Atley Mahorn, Desai Williams and Ben Johnson) that won gold and also participated in the 110 meter hurdles where he once again set the Commonwealth record. His good friend, training partner and future world champion, Colin Jackson of Great Britain finished second. Mark was a member of Canada's 1987 World Championship team in Rome, Italy where he once again finished fourth. Greg Foster of the U.S. won for the second time, John Rigdon was second and Colin Jackson finished third.
In 1988, Mark represented Canada for the third time in the Olympic Games at Seoul, South Korea. Mark finished 7th in the 110 meter hurdles. Because he finished third in the 100 meter sprint at the Canadian national track and field championships, he was selected as a member of the Olympic 4 x 100 meter relay team. The team included Ben Johnson, Desai Williams and Atley Mahorn. Unfortunately, his career was not without controversy. When his good friend and part time training partner, Ben Johnson, was disqualified from his world and Olympic record breaking run because he tested positive for steroid use, Mark let his loyalty to Ben influence his decision to leave Seoul before competing in the 4 x 100 meter relay. Mark was disappointed at the lack of support for Ben from the Canadian Olympic committee and decided to support his friend and teammate and left Seoul with Ben. Consequently, Mark was suspended from competition by the Canadian Track and Field association for 2 years in Canadian events and 1 year in international events. Mark was tested for drug use in Canada following his return and the results were negative. Mark later testified at the Dubbin Inquiry which examined drug use in Canadian Track and Field. Mark testified that he experimented with steroids over a 2 month period in his career but stopped using them when he realized the negative impact they were having on him. Every athlete who testified at the Dubbin Inquiry admitted to experimenting with steroids. Mark was 26 years old at the time.
In 1991 the World Championship Indoor Games were held in Seville, Spain where Mark finished 3rd. In the world championship outdoor games in Tokyo, Mark had his customary 4th place finish.
Then in 1992 Mark won the gold medal at the Barcelona Olympics.
In 1993, Mark competed in the world indoor games at Toronto and placed first in the 60 meter hurdles. His friend Colin Jackson placed second and Tony Dees placed third. Unfortunately, Mark did not compete in the World Championship Outdoor Games that were held in Stuttgart, Germany. That year, Mark finished second in almost every League race he ran to his friend and training partner, Colin Jackson who set the world record at the world championships. Mark didn't compete in the world championship because he was living in Austria and had to travel back to Canada to compete in the Canadian nationals. Mark's schedule wouldn't accommodate his participation and despite not sending any hurdlers to the world championships, Mark was not allowed to compete for Canada.
Mark McKoy's track and field accomplishments, his longevity and his gold medal in the 1992 Barcelona Olympic Games place him in the uppermost echelon of Canadian elite athletes and cement his hold as one of Canada's most accomplished athletes on the world stage. Mark's athletic achievements, which span a 16 year career, include 5 Olympic teams and an Olympic gold.
 Read his Face to Face interview with NYHL below!
What minor sport/sports were you active in?
Track and field, Volleyball and Soccer.
What was the most defining moment in your involvement in minor sports?
When my high school coach asked me to try the hurdles because there was nobody else in the school able to do them, or wanted to for that matter. If I didn't take the risk, I wouldn't have achieved what I did.
What did you like best about minor sports?
The camaraderie with all my teammates.
What did you like least about minor sports?
There was no government support. We did a lot of travelling and really had no support from the government or any corporations. Amateur athletics is defiantly an area of "for the love of sport." Those that make it, make it because of their deep passion. Not for the money or the fame, because there is none.
What was the best lesson you learned from taking part in minor sports?
Not to rely on anybody. Do things because you want to do them. I have a saying I live by: if it's to be, it's up to me.
Do you still apply that lesson today?
Yes. To everything
What was your achievement that made you most proud?
The 1992 Olympics and the gold medal in the 110 meter hurdles.
What was your most memorable Olympic experience?
The Barcelona Olympic games and winning the Gold.
Which city or country that hosted the Olympics did you like best and why?
Barcelona. It is a beautiful city. And other obvious reasons.
Was there something you always wanted from your career that eluded you?
Breaking the 13 second barrier in the hurdles. My Best time is 13.08.
Why do you think sports play an important role in a child's life?
It is important for their overall health. If kids aren't active and healthy it affects a lot of things they do, including being able to concentrate in school. I feel this is often overlooked.
What advice can you give kids today in regards to being involved?
Just do it. Get involved. It will not only be good for their health, but also teaches them teamwork and communication skills, gives them self confidence, raises self esteem, helps them to overcome failure, take responsibility, and the list goes on.
What is the best advice you can pass along to parents on how to approach their children's involvement in sports?
Always encourage your children but be careful not to push them. A lot of times I see parents try to live through their kids. Children have their own drive, so let them find their own way, but always be there to support their decisions (even if they are not what you want).