25 Jun

Volt Hockey is making Canada's favourite pastime more accessible thanks to Variety: the Children's Charity of Ontario
Background
Played by over 50 teams in Denmark, Germany, Norway, Sweden, and the United States, Volt Hockey is an accessible sport that "equalizes the playing field" for youth with disabilities, allowing them to engage in a social team-based sport. Played in the Danish-designed Hockey Sport Chair, Volt Hockey only requires that players be able to manipulate a joystick.
Volt Hockey originated in the 1990s, when the Crown Prince of Denmark donated funds to the Danish Disabled Sports Federation. These funds were used to create a new accessible sport that could be played by youths with otherwise little access to sport. The sport has grown significantly across Scandinavia, providing access to sport for individuals with physical disabilities such as Muscular Dystrophy, Cerebral Palsy, Spina Bifida, Osteoporosis and Dwarfism, among others.
The journey to bring Volt Hockey to Canada began in 2014, when the Royal Danish Consulate General in Toronto became aware of the sport and decided to host the first demonstration during the Fall of 2014 with the Crown Prince and Princess of Denmark. Due to the overwhelming response and the realization that there is a large unmet need for access to sports for individuals with physical disabilities, the project to bring Volt Hockey to Canada took off.
The rate of participation of youths with physical disabilities is seven times less than the average population. Their participation in sports promises to improve their physical, emotional and mental well-being. Beyond the immediate health benefits of participating in recreation, team-based sports provides youths, their families and the community with a wider social involvement and an increased support network.
About the Volt Hockey Chair
Volt Hockey is a game played in a specially, Danish-designed chair for youth (6 years and up) with severe physical disabilities and limited upper body strength. This chair, unlike many standard wheelchairs, is low to the ground, helping to ensure the safety of the rider by making it nearly impossible to flip. Made of molded beech wood on a metal frame the chair runs on two electric motors that use rechargeable batteries.
Moreover, due to the exceptional design, the chair provides unparalleled performance, being able to turn 360 degrees on a dime and reach up to 13km/hour. The chair is equipped with a 4 point seat belt to maintain stability and comes in 3 fully modifiable sizes, depending on the height of the player. Depending on an individual's physical disability, modifiable cushions could be placed in the chair to ensure the player's comfort.
About the Volt Hockey Game
The game is played by two teams in an indoor court or gymnasium. Normally there are 3 players on each team on the court at a time, with two 15 minutes halves in a game and two referees. The game is played in a standardized manner around the globe, according to an International Rule Book. By playing the game in a standardized manner globally, teams can compete in international tournaments.
One of the unique features of Volt Hockey is that the chairs do not belong to players, but instead to a Hockey Club facility, where they are stored and maintained. With 10-12 chairs of various sizes, a Club typically hosts at least five teams comprising of approximately 10 players each.
Depending on the Club's schedule, each team practices 1-2 times per week for 2 hours. Matches between teams are typically held at least once per month. International Championships is held each year in the spring and fall, where the leading clubs from around the globe can participate.
Benefits of Volt Hockey
With only 3% of youths with disabilities receiving any regular physical activity, there is an opportunity to increase active living for them, which has the benefit of improving their physical, mental and emotional well-being. Although some sports and recreational activities are available for children with physical disabilities, those with limited upper body strength have even more limited options. Furthermore, there are very few options that give youths with severe physical disabilities the ability to independently partake in a team-based sport, as they often must rely on others to help them play sport. Volt Hockey provides both the access and independence to team-based sport.
By purchasing 10 chairs, facilities such as Variety Ontario in Toronto, can expand their programming for youths with disabilities and begin to engage a further segment of the population that otherwise may not be active in sports. Stored and maintained by the Club, the fully adjustable chairs allow at least 5 different teams to be located at the same Club thereby providing access for at least 50 full-time players per year. With limited maintenance, the upfront investment in the equipment can provide continued access to sport for youths for up to 15 years.
Lives are changed through the spirit of sport. Volt Hockey offers endless opportunities – eliminating barriers and leveling the playing field in sport for youth with disabilities. Your partnership will provide significant benefit to the player, their family and our community.
For the Players
Improves physical, emotional and mental well-being through fun and play
Builds confidence that empowers each player to participate regardless of their physical ability
Teaches skills and instills a life-long desire for activity
Provides a forum of outreach to children and youth with disability, affirming their place on the playing field
For Families
Empowers parents who advocate daily for their child
Increases their support network, providing wider social involvement for them and their child
Builds a community of families in their desire to "level the playing field" for their child
Provides respite care for families in a safe and fun environment
For the Community
Actively engages our community in a philanthropic commitment to inclusivity and empowering others through sports
Identifies Canada as a leader in fostering opportunities for individuals with a disability
Creates a platform for national and international competition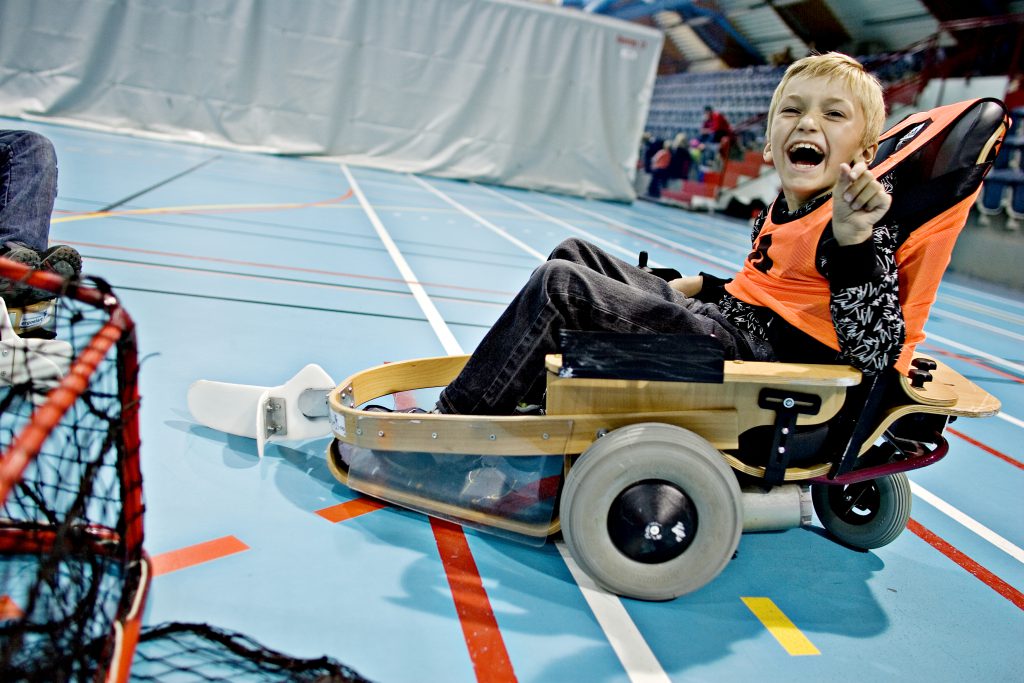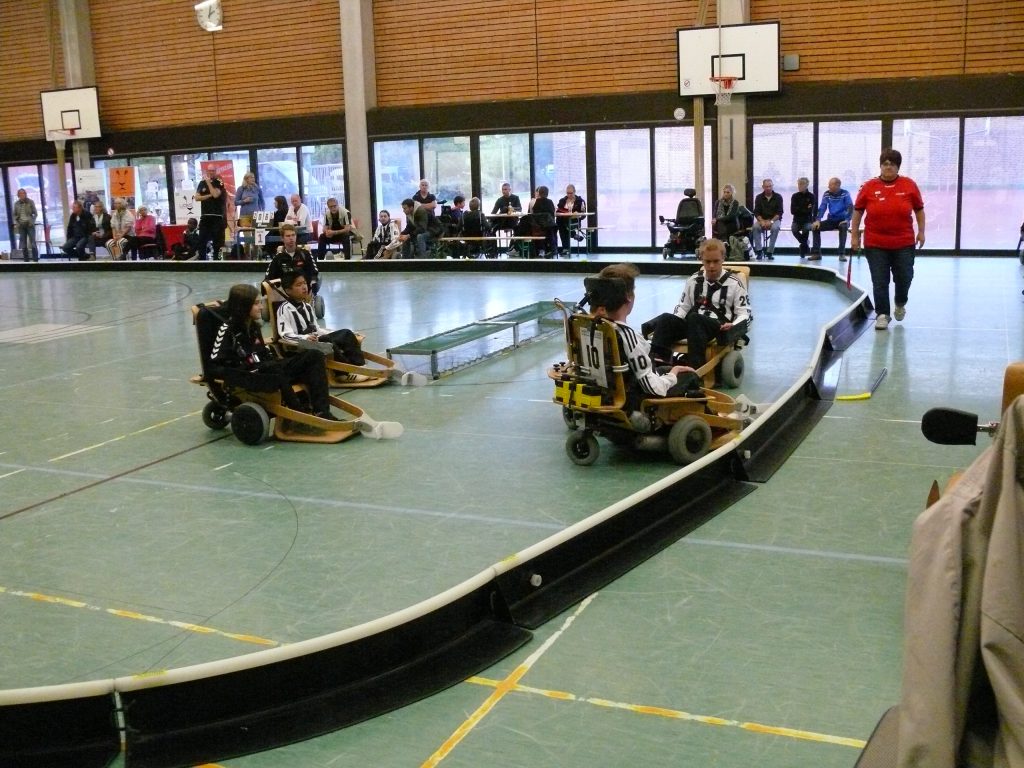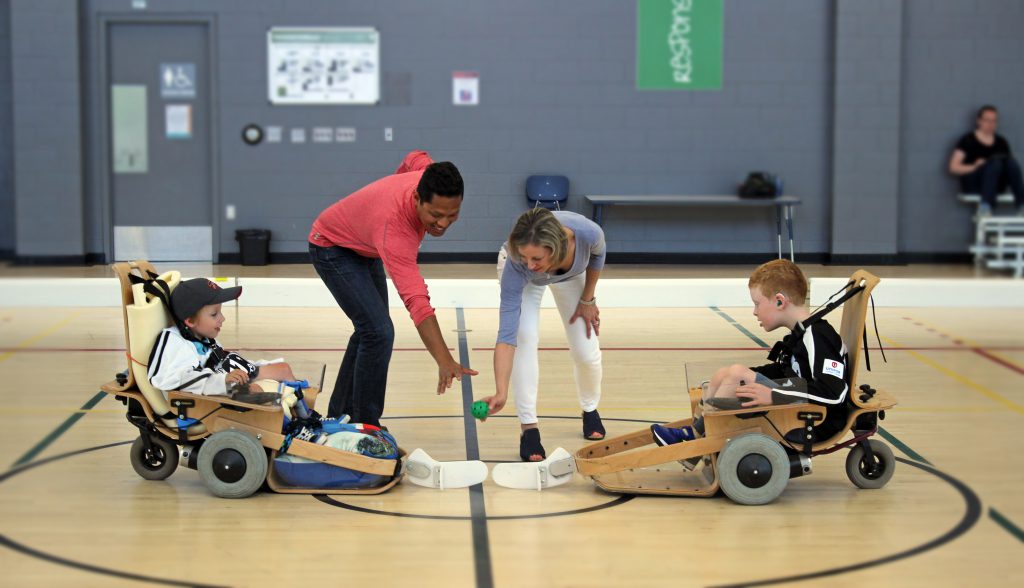 Variety Village | Volt Hockey
Volt Hockey ft. Mike Babcock
For more information about Volt Hockey contact:
Jessica Cunha
Volt Hockey Expansion Coordinator
Variety Ontario
(416) 699-7167 x223
jcunha@varietyontario.ca
Or visit www.varietyontario.ca